Walking and Cycling Guides
We have published a range of guides for walkers and cyclists in the Stour Valley.
They are all free to download, except Train Rides to Ramble and Bike Trails by Rail – see prices below.
Paper copies may be available from Canterbury Visitor Information Centre (01227 862162) or Ashford Gateway Plus (03000 41 66 66) or contact us.

Indicates walks which follow parts of the North Downs Way National Trail. For more information visit the North Downs Way website
---
Big Blean Walk (walking only)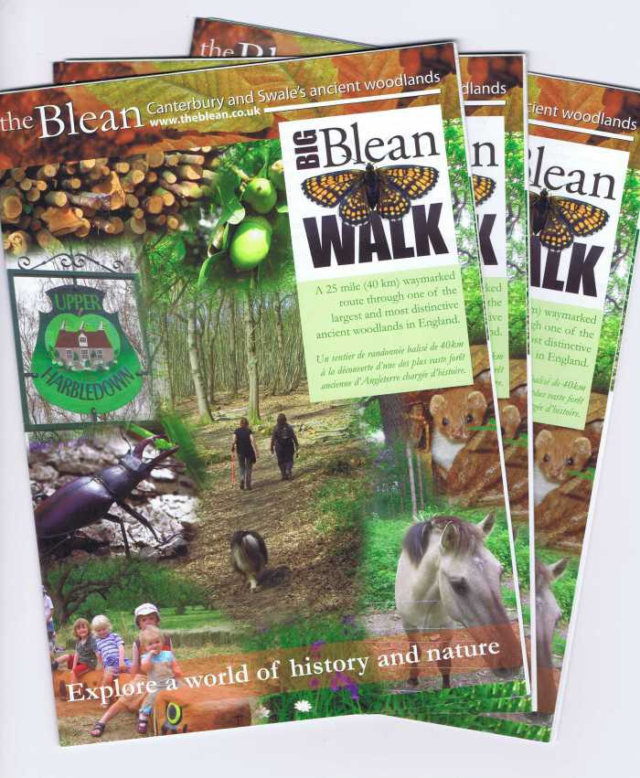 A 25 mile waymarked route through one of the largest and most distinctive ancient woodlands in Britain.
The Big Blean Walk can be done as one very long circular walk or in stages. The recommended starting point is Selling Railway Station but the Walk has been waymarked in both directions. You can make use of the Great Stour Way, North Downs Way or the Crab and Winkle Way to join or leave the Walk.
Download Big Blean Walk leaflet PDF
We have also produced 18 interpretation panels about the wildlife and heritage of these woodlands, located throughout the Blean.
---
Crab and Winkle Way (cycling and walking)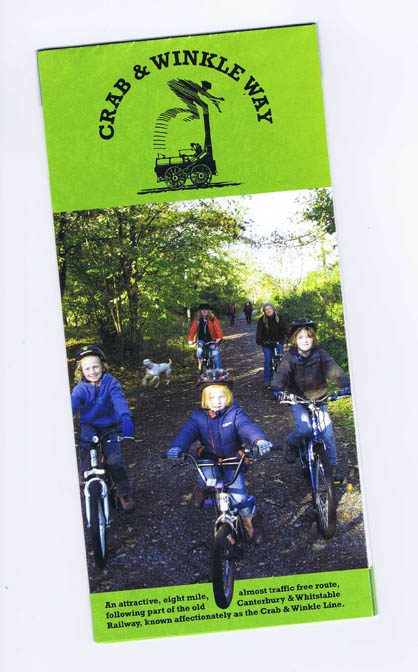 An attractive, eight mile, almost traffic free route, following part of the old Canterbury and Whitstable Railway, known affectionately as the Crab and Winkle Line.
The route runs from Canterbury city centre to Whitstable harbour, passing through the Blean. A number of specially commissioned sculptures can be seen along the route. The Way forms part of National Cycle Route 1.
Download Crab and Winkle Way leaflet PDF
---
Great Stour Way (cycling and walking)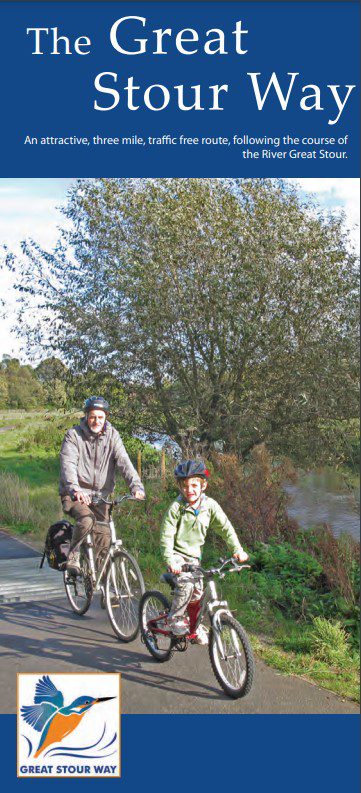 A three mile, traffic-free multi-user path which follows the course of the River Great Stour.
The leaflet has a wealth of background on the wildlife and heritage of the Great Stour, including some lovely species photos. It contains all the information you will need to make your visit. The main map features numbered points of interest, and shows benches, RADAR gates, toilets and parking.
Download Great Stour Way leaflet PDF
A separate map gives details on directions, parking and facilities.
Download Great Stour Way directions parking and facilities map PDF
---
Ashford Green Corridor (cycling and walking)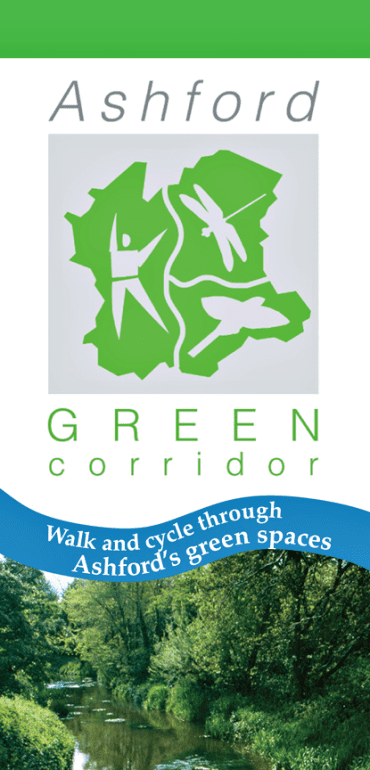 Seven walks through riverside green spaces in the heart of Ashford, plus information on wider access for walkers and cyclists.
This third edition of the Ashford Green Corridor leaflet gives updated information on this urban river Local Nature Reserve. It includes a series of seven walks through the corridor, with hand painted direction maps and information on points of interest.
Download Ashford Green Corridor leaflet PDF
---
Train Rides to Ramble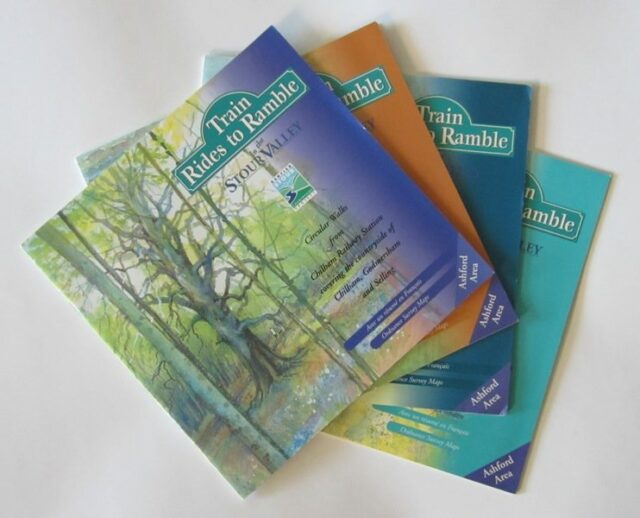 A series of rural, circular walk routes in the Stour Valley which all start at railway stations. Distances range from 1.5 to 12 miles.
Each booklet contains three or four walks, full directions, ordnance survey maps and a wealth of illustrations and information about what to see on the way.
Please note : these booklets were produced in 2000, and while Public Rights of Way will remain the same, some details of route descriptions (e.g. gates and stiles) will have changed.
Ashford Area Booklets:
Walks from Wye, Chilham, Charing and Pluckley railway stations.
Areas covered include: Wye and Crundale Downs, King's Wood, Godmersham Park, Selling, Chilham Lake, Hothfield Common, Westwell, Egerton and Little Chart.
Canterbury Area Booklets:
Walks from Bekesbourne, Sturry and Chartham railway stations and Grove Ferry Picnic Site.
Areas covered include: Stodmarsh National Nature Reserve, Westbere Marshes, Fordwich, Chislet Marshes, Littlebourne, Wickhambreaux, Patrixbourne and Denge Wood.
Prices:
Single booklets 50p each
Pack of four (please specifiy Ashford or Canterbury) £2
Prices include postage and packing.
Individual walk maps
All the individual route maps may be downloaded for free.
---
Bike Trails by Rail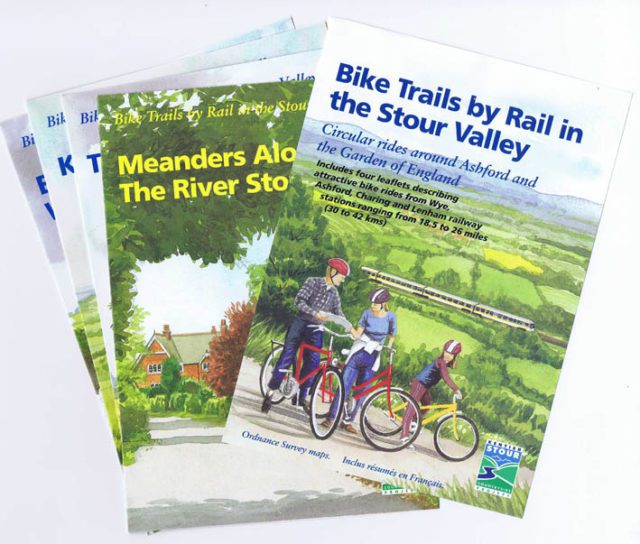 Easy to follow, circular cycling routes around the Stour Valley, which all start at railway stations. Trails range in length from 10 to 26 miles.
Each pack contains four full colour, illustrated leaflets with ordnance survey maps, directions, and lots of information about what to see on the way.
Ashford Area pack:
Rides from Wye, Ashford, Charing and Lenham railway stations.
Areas covered include: Wye Downs, Petham, Hastingleigh, Hatch Park, Brabourne Lees, Hothfield Common, Pluckley and Aldington.
Canterbury Area pack:
Rides from Bekesbourne, Chartham, Sturry and Chilham railway stations.
Areas covered include: Bridge, Covert Wood, King's Wood, Selling, Denge Wood, Waltham, Stodmarsh, Chislet Marshes and Reculver.
Price:
£1.50 per pack
Includes postage and packing.
Share this page: