East Kent Sustainable Farming Group
The East Kent Sustainable Farming Group was set up in March 2018.
Read about the launch of the group.
The group is facilitated by the Kentish Stour Countryside Partnership.
Kentish Stour Countryside Partnership have been working with farmers in east Kent since 1992, delivering many of the Countryside Stewardship Schemes in the area for farmers and landowners and delivering on many ground improvements for wildlife.
Who is the group?
A group of 10 farmers, farming in the Upper River Stour Catchment, working together to advance farming in a sustainable way by addressing the priority issues within this area, regarding our natural ecosystems .
The upper part of the River Stour catchment covers an extensive area and has a large number of tributaries and ditch systems that feed into the main river system.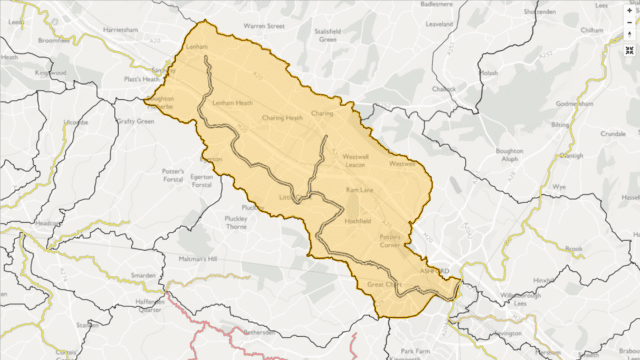 The Natural England Countryside Stewardship Facilitation Fund supports people and organisations that bring farmers, foresters, and other land managers together to improve the local natural environment at a landscape scale. There are currently 98 Farmer Clusters funded in this way in the UK.
The Farmer Cluster provides farmers with a chance to share ideas and best practice as well as an opportunity to work together to achieve more than what an individual may be able to do.
What are EKSFG priority aims?
Different clusters around the country are addressing various issues.
The main emphasis for EKSFG is to respond to the top water priorities in the area. These water priorities have been identified through the Water Framework Directive (WFD)
Summary of water priorities : Low Flow, low dissolved oxygen, high phosphates and poor fish populations.
Different areas of the country have different priority statements. For EKSFG these are – North Downs Priority Statement  and Wealden Greensand Priority Statement
The Countryside Stewardship scheme explains the priorities for each area.
What is sustainable farming?
Sustainable agriculture is farming in sustainable ways, which means meeting society's present food and textile needs whilst ensuring there is a natural world in the future and ensuring farming is economically viable.
Why?
71% of UK land used for farming – 17.2 million hectares (gov. figures) supplying 76% of the UK food supply.
Ecosystem services
The natural environment and healthy ecosystems are essential for human life to exist, and be comfortable within that existence.
An ecosystem service looks at the benefit society receives through the action of a healthy living environment and associated habitats.
Insects are an essential part of the ecosystems – they pollinate plants guaranteeing food supplies, they break down leaves and rotting vegetation as well as dead creatures, cleansing the environment and ensuring that this organic matter is added to our soils in a way that can benefit both plants and other insects.
Insects also feed the birds, mammals, reptiles and amphibians within our countryside. Many of these animals and insects can be classed as beneficials, supporting functioning ecosystems by eating pests and spreading seed. Without all these creatures the countryside would be a sterile environment, not the beautiful place we go out to relax and exercise in.
Soils are another service. Healthy soils are full of the organic matter from dead plants and animals or the manure of living ones. It can take 200 – 400 years to create a cm deep soil. Organic matter and good soil management means ensures soil has excellent water holding capacity, can grow plants and maintains a stable structure, ensuring it remains in the fields and is not lost through run-off.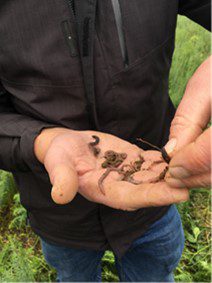 Without soil we could not have all the foods growing in this country. Soils across the world are stopping performing their proper job due to intensive agriculture. Soil as an ecosystem service has been ignored and the importance of its performance been demeaned in recent decades through intensive agriculture and mechanisation.
Carbon capture – There is too much carbon dioxide in the atmosphere, causing devastating problems across the world with global warming leading to extremes of weather. These extremes are felt here in Kent, one of the most water stressed counties in the country with droughts in the summer and flooding in the winter. Soil, grassland, woodland and hedgerows capture carbon from the atmosphere and keep it locked up all the time it is in a stable or growing state.
How do farmers look after these?
They try their best to farm in a sustainable way – but these methods are still  being discussed and trialled. Farmers have the pressure of both farming sustainably and farming to produce cheap food.
Sustainable Farming is essential if we are to protect the natural world and have healthy, well grown food supplies.
If you are interested in getting involved in our Farm Cluster, or want advice on sustainable farming contact
Kentish Stour Countryside Partnership
Links to other groups looking at sustainable farming :
Nature Friendly Farming Network – www.nffn.org.uk
LEAF – Linking Environment and Farming – leafuk.org
FWAG South East – Farming and Wildlife Advisory Group – fwagsoutheast.co.uk
Case Study for EKSFG
The East Kent Sustainable Farming Group (EKSFG) started in 2018 with 4 farmers. The group grew to 10 members, covering just over 2000 ha of land in the Upper Stour river catchment. The group have met throughout the year to discuss topics including soil health, cover crops, natural flood management, important pollinators and encouraging grey partridge.
The topics have all identified ways to farm more sustainably. Experts from Buglife, Edaphos and the Game and Wildlife Conservation Trust have all delivered engaging workshops.
The farming members demonstrate a connection between farm business efficiency and the importance of good land stewardship. Many farmers that have not engaged with the group, maintain using farming methods that continue to strip the land of the values identified as ecosystem services.
What Next for Farmers…?
Environmental Land Management schemes (ELMs) are a new form of countryside stewardship currently being rolled out by DEFRA and Natural England, with support from smaller organisations such as AONBs. The view is that farmers will be able to tailor an ELMs to specific features on the holding that offer the most environmental protection or gain. Payments to farmers will be based on public money for public goods (ecosystem services). ELMs schemes are being piloted across the UK with new agreements looking to go live in 2024.
Share this page: