A Year in the Life of a Volunteer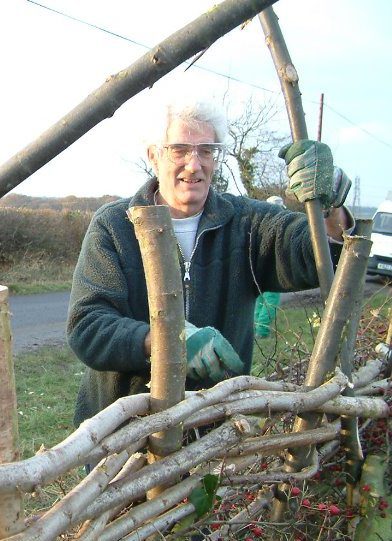 Ten years ago, one of our volunteers, Richard Yarwood wrote this piece for our old website…
'It seems hard to believe that this will be 207th time I have walked across Canterbury to North Lane car park to be whisked off by minibus for a day's conservation with the Kentish Stour Countryside Project.
Today we will be at Down Bank clearing dogwood scrub with a good bonfire, banter with 'the lads', a mug of tea and perhaps a biscuit, if J has remembered to go shopping.
Down Bank is one of my favourite sites, another is Jumping Downs. Both have spectacular views across the Downland and there is a good chance of seeing a raptor or two soaring on the wind (we did, in fact, get to see a peregrine and a buzzard at the same time this week!).
After 36 years of paid work I found myself back on the streets. I made inquiries about conservation work, but some pigs in the north got very sick and the whole of the countryside closed down for 9 months! Apathy set in but I made a new year's resolution to GET OUT THERE! So in January 2002 I appeared for my first day at Neal's Place to do a bit of hedge laying.
There were people who thought that they wouldn't see me again but I've kept turning up! Now I really look forward to the day, perhaps with the exception of 'pond work'.
Recently we have become semi-resident at Stodmarsh NNR with excursions to other sites every couple of weeks. This makes the weekly tasks more varied but I think the 'hardcore' volunteers would come anyway, I know I will.
I've only managed 30 days with KSCP this year, mainly because I had a detached retina last February, but I volunteer with three other groups too. I can never quite decide why, but KSCP is my favourite group, it could be more varied tasks or the free minibus transport from the centre of Canterbury, anyway I hope to be able to continue to volunteer each week for the next ten years at least!'
With the launch of our new website, we went back to Richard, who is still volunteering with us, for an update!
'Was it something we said. . .
Leaders come and leaders go. Since I started volunteering with KSCP in 2002 we have had five permanent leaders and there have been many temporary substitutes. I suppose the same thing could be said about volunteers. I think there are three others who pre-date me and are still regulars. It makes interesting conversation around the winter bonfires. 'Do you remember Annelise – she only came once – what did you say to her? Who was that bloke at Down Bank? It wasn't really that funny'.
The same variety applies to the weekly tasks, lots of scrub bashing and bonfires in the winter, more variation in the summer. We've done hedge planting, pond clearing, footpath maintenance, bridge building and balsam pulling. The tasks, whatever they may be, are always enjoyable, not only because of the variety, but they are a day out in the countryside with others who don't mind getting their hands (and clothes) dirty. We also like to think we are making a difference and improving the environment for wildlife. It's pleasing to return to a site where we have worked in previous years to see the results of our labours.
We often see quite a bit of wildlife too. Birds are the easiest to spot of course; we've seen increasing numbers of raptors over the years. Buzzards are now a common sight and recently we have seen a couple of red kites. The Partnership has supported the erection of barn owl boxes which are used every season. This project was featured on BBC South East this summer. We have built some otter holts too, we are still hoping these will be used someday soon.
The volunteers are a varied bunch too. We range in age from 18 to 77 and although we don't reach sexual equality there is usually a smattering of women. There are of course people who come along and decide it's not for them, but most of us once bitten keep on coming back for more. I've now contributed over 600 days to the partnership and I don't see any sign of my giving up at the moment.'
Share this page: