A Day in the Life of a Volunteer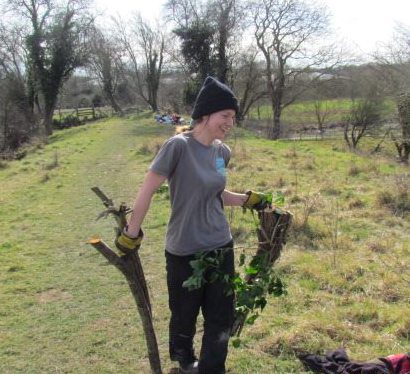 This account of what it's like to volunteer for KSCP was written by Canterbury 'regular' Katie Z.
'I squint at my alarm clock.
6:37am.
Only a few minutes before the thing starts shrieking at me to get up. May as well get up now.
I plod downstairs glaring at the overly bright hall light waiting to greet me that dazzles me as I pass and make myself a cup of tea. I pack my things, ready my wet weather gear (wisely distrusting the Met Office's predictions for the day), and bid farewell to the dogs as I head into town to our vehicle pick-up point.
Thus begins my rather sleepy start to a day as a countryside volunteer.
Getting into town early I have time to buy a sandwich for lunch. I always feel rather awkward walking around town in my conservation getup. Layered up for outdoor winter work I bear a striking resemblance to the Michelin man. This is topped off with waterproofs and work boots that have seen better days with a patina of rips, burn-holes, and ingrained mud.
I look homeless. I think if I sat in the subway I could earn either small change or abuse; perhaps both. Some days I feel half-tempted to try it out as an experiment.
There's some time before we are collected to head to our place of work for the day and my inner-hobo instincts lure me to a park bench where I sit and read a book or magazine until it's time to gather. From where I sit I can see the river than runs through one end of town. It's swollen and tawny from the recent rains and I wonder whether if we'll see flooding again this year. Other volunteers slowly emerge from town and we chat as we wait for the landrover to arrive.
Our group is popular so some volunteers turn up in their cars – necessary to accommodate all our number. The work vehicle arrives and we head off in a small convoy to a nearby farm to work on a hedgerow that runs along one of the fields.
The sky is heavy with rain and the ground sodden with each step causing water to well-up to the surface. We set about building a fire but it's going to take awhile to get going in these conditions. Luckily we have Simon who's an excellent fire-starter.
Our task is to coppice the hedgerow running along the field's edge. All hedgerow plants want to become big trees so eventually hedegrows become gappy at their bases. Coppicing is an ancient method of woodland management and is useful when hedgerow trees get a little too big to be managed by trimming or hedgelaying. By cutting the trees down in winter it allows for the collection of wood whilst leaving the buds below the cutting height to respond by putting up new stems. This leads to a flush of dense vegetation growth the following seasons.
These trees had been cut before and each one is a labyrinth of stems contorted over one another so it can be a bit muddle. Brian remarks that he enjoys solving the puzzle of where to begin.
We cut every third tree using a combination of loppers, bowsaws and handsaws. They are then cut down to ground by Andrew who's wielding a chainsaw. By chance mine is tiny and at morning tea break I cheekily tell Jenny and Angie that I've already finished mine when they've been working on theirs' since last week. Tea breaks are getting more luxurious in our group with an increasing selection of biscuits and home made cakes. Tasty and energising food to fuel our labours!
Cuttings from the hedgerow are divided between long twiggy branches to be bundled and thicker straight branches suitable to be used for stakes. These will be taken to be used for our summer river work. The rest fuels the warming fires.
We stop for lunch and a chat. The muddy field means our group is divided between islands of dry seating in a muddy sea. Angie and I sit on our tarpaulin raft and talk about whether it's cold enough to start making soups yet.
I find a cache of hazelnut shells amongst one of the stumps. The chiseling on the inside edge of the hole tells me that it is probably belongs to a woodmouse from last year who had been eating them.
Hedgerows are important for wildlife such as woodmice and birds including protected species such as dormice so maintaining hedgerows is important in connecting up habitat as well as being a standalone habitat in itself. It's a shame that so many hedgerows I see in my local area are in a poor neglected state or have been completely replaced by fencing.
We strap our bundles of branches onto the roof and trailer, effectively camouflaging our vehicle as a large bush and drive back into town to be dropped off. I'm tired with soggy feet and covered in thin film of mud, algae and sawdust. But despite that seeing the hidden places we get to visit, chatting and joking with the group, and carrying our work that's going to help our wildlife – it's always worth it!'
Share this page: