Privacy Notice and Cookies Policy
Under the General Data Protection Regulation (GDPR), KSCP must be transparent and provide accessible information to individuals about how will use your personal data. KSCP is administered by Kent County Council and so our policies and procedures are governed by Kent County Council.
What are KSCP's obligations under GDPR as a Data Controller?
Kent County Council is the Data Controller because as the administering authority it determines why your data is being processed and how it is being processed.
Processing is anything that is done with personal data including collecting, recording, structuring, storing, adapting, altering, retrieving, consulting, use and disclosure.
KSCP staff are trained to handle your information correctly and protect your privacy.
How and why are we processing your personal data?
We rely on your consent to store and process the personal information that we collect
You are providing your contact details so that we can inform you about events, activities and other news that you have expressed an interest about or in relation to a site we help you to manage.
Staff will only share relevant information where required to do by law and with sound legal basis. In some cases we might be requested to share data with some of our grant giving bodies but we would request permission from you to do this if this was to happen. We would hold this data for 5 years for site monitoring purposes.
Your Rights
Under the GDPR you have a number of rights which you can access exercise free of charge that allow you to:
• Know what we are doing with your information and why we are doing it
• Ask to see what information we hold about you
• Ask us to correct any mistakes in the information we hold about you
• Object to direct marketing
• Make a complaint to the Information Commissioners Office
Depending on our reason for using your information you may also be entitled to:
• Ask us to delete information we hold about you
• Have your information transferred electronically to yourself or to another organisation
• Object to decisions being made that significantly affect you
• Object to how we are using your information
• Stop us using your information in certain ways
We will always seek to comply with your request however we may be required to hold or use your information to comply with legal duties. Please note: your request may delay or restrict your involvement with us or prevent you from accessing our services altogether.
For further information about your rights, including the circumstances in which they apply, see the guidance from the UK Information Commissioners Office (ICO) on individuals' rights under the General Data Protection Regulation.
If you would like to exercise a right, please contact the Information Resilience and Transparency Team at data.protection@kent.gov.uk.
Keeping your personal information secure
We have appropriate security measures in place to prevent personal information from being accidentally lost, or used or accessed in an unauthorised way. We limit access to your personal information to those who have a genuine business need to know it. Those processing your information will do so only in an authorised manner and are subject to a duty of confidentiality.
We also have procedures in place to deal with any suspected data security breach. We will notify you and any applicable regulator of a suspected data security breach where we are legally required to do so.
Who to Contact
Please contact the Information Resilience and Transparency Team at data.protection@kent.gov.uk to exercise any of your rights, or if you have a complaint about why your information has been collected, how it has been used or how long we have kept it for.
You can contact our Data Protection Officer, Benjamin Watts, at dpo@kent.gov.uk or by writing to the Data Protection Officer at Sessions House, Maidstone, Kent ME14 1XQ.
The General Data Protection Regulation also gives you right to lodge a complaint with a supervisory authority. The supervisory authority in the UK is the Information Commissioner who may be contacted at https://ico.org.uk/concerns or telephone 03031 231113.
For further information visit https://www.kent.gov.uk/about-the-council/about-the-website/privacy-statement
What are cookies?
Cookies are small text files that are placed on your computer when you visit a website. They are widely used in order to make websites work more efficiently and provide basic functionality such as remembering preferences or filling out forms. They are also used to provide information and insights to the owners of the site that help to improve performance and offer a better user experience.
Cookies on https://kentishstour.org.uk/
This site uses cookies. The table below explains the cookies we use and why. We will not use any of this data to personally identify you.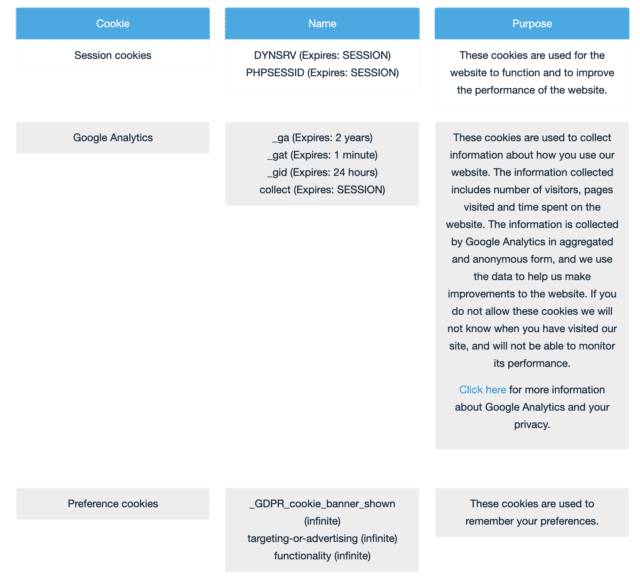 Disabling cookies
You can prevent the use of cookies by adjusting your browser settings. Please be aware that some cookies are necessary for the website to function. You can set your browser to block or alert you about these cookies, but some parts of this site and many other sites you visit will then not then work properly as certain functionality and features will have been disabled.
For more information about cookies, visit http://www.allaboutcookies.org/
Share this page: